TOP ACCESSORIES DESIGNER TARINI NIRULA ON WHY SHE'S DRAWN TO YOGA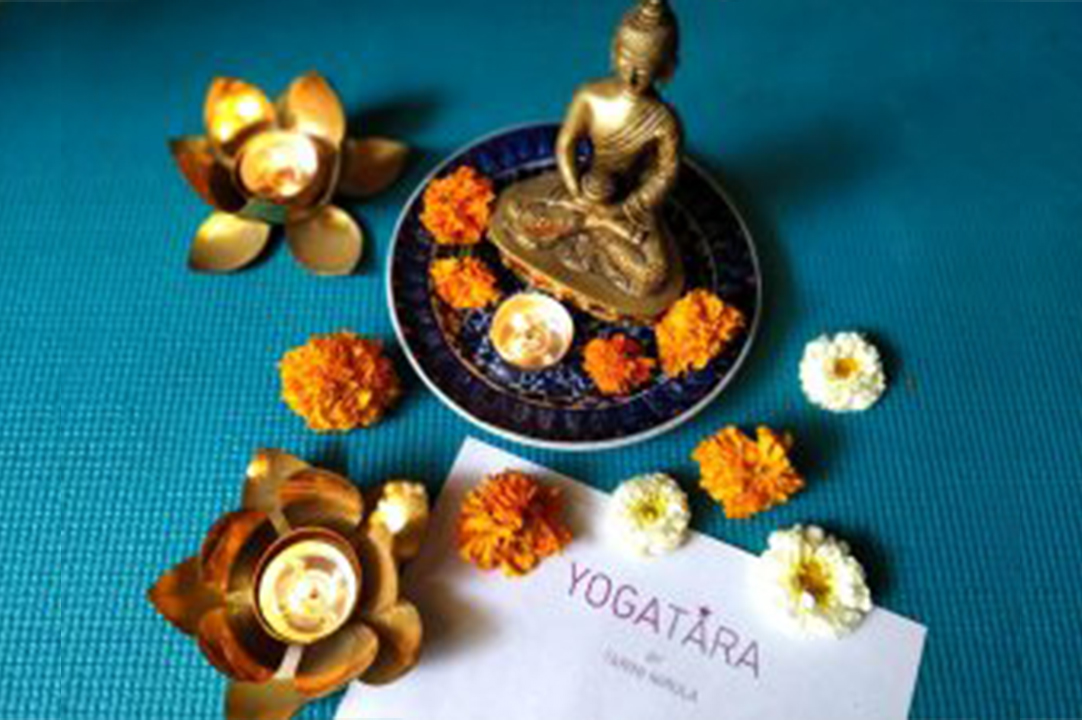 eShe is an independent monthly magazine for women published out of New Delhi. Aekta Kapoor is a lifestyle journalist and the founder and editor of eShe magazine.
The following article is written by Tarini Nirula, Designer & Founder of YogaTara, for
e-She – An independent magazine empowering women around the world.
Yoga came into my life five years ago. I was going through a challenging phase due to which my mind was not at peace. I yearned for a feeling that I knew was missing from my life. As Rumi said,? What you seek is seeking you.?
Little did I know that this yearning would bring about a turning point in my life. A close friend suggested that I start yoga classes, and that was how this beautiful practice became a part of who I am today.
Yoga is a life-changing philosophy. Soon after starting the practice, I felt much healthier and more flexible as my body opened up with the asanas. I automatically became more conscious of my diet. The breathing techniques made me feel calmer because my mind was present at the moment, and this released all the tension in my body.
After practicing two and a half years of power yoga from an inspiring woman, I began my practice in the traditional school of Hatha yoga.
THIS IS WHERE MY MENTAL TRANSFORMATION BEGAN TO TAKE PLACE AT A DEEPER LEVEL.
There was an increased focus on each posture, along with breathing techniques and mantra-chanting. I felt as if I was in a meditative state. Yoga for me became a practice not just on the mat, but off the mat too.
The smaller things in life started to bring me joy, and I felt a deep sense of gratitude towards my work, family, friends, employees, the beauty around me, my yoga practice, my own body, and the list goes on.
The curiosity to deepen my understanding of this philosophy and also to share it with others led me to undergo a professional teacher's training course from learned gurus at an international school of yoga. Those five weeks were completely transformational for me.
Yoga means the union of the individual soul with the universal soul. When one understands that there is a force greater than you and I, you start to believe in the impossible and make it happen.
My perspective towards life and every situation I am faced with, be it at work or outside, has changed. I am aware of my thoughts, and because I make it a point to always focus on the positive, I feel a sense of gratitude, peace, and happiness which is absolute.
With the practice, during meditation, asana, and Pranayama, my body and mind have become stronger and I can in turn focus better. even in my design work. A sense of discipline has also come into my life, which gives me more energy for long days in the studio or in my workshops.
Eradicating the ego is extremely challenging, as it exists at some level within all of us. But through yoga, I am learning to let go of it. You begin to understand yourself and accept yourself.
I am excited to share this philosophy with people and continue to deepen my learning, which is lifelong! The benefits of yoga are innumerable; you just have to practice it with an open heart and feel the love, peace, health, and happiness start flowing in, just as I did.
To read this article on the official e-she Blog, please click on the link below
https://eshe.in/2017/11/20/tarini-nirula-yoga/