Rendezvous with Tarini Nirula Designs
THE VOGUE AMIGO BY SIMRAN GILL
This blog is the brain child of Simran Gill, an academician by profession. It is her sheer love of fashion that inspired Simran to start the 'Vogue Amigo blog. The intention is to bring to the audience an eclectic mix of individual fashion sensibilities with comfort being of paramount importance, and yet being able to push the boundaries.
It's all about styling your outfit with the right accessories. An accessory can make or break your outfit! If you are in a dilemma about what outfit to wear on a particular occasion, fret not! Styling a basic outfit with a statement accessory works wonders!
Lately, there has been a wave in the fashion paradise of hand-woven clutches. Not only do they look absolutely stunning but they amp up a monotonous look. Spearheading this trend is a young accessory designer, Tarini Nirula who launched her own label of Luxury Fashion Accessories in November 2011.
Her exquisitely handcrafted designs reflect an evolved aesthetic with strong functional roots. Each Minaudire is adorned with traditional surface ornamentation and is meticulously assembled by skilled artisans. Tarini has collaborated with leading textile and fashion designers, including Bina Rao, Manish Arora, Jenjum Gadi, and Hemant & Nandita to create bespoke accessories, many of which have been showcased at Wills India Fashion Week and Paris Fashion Week.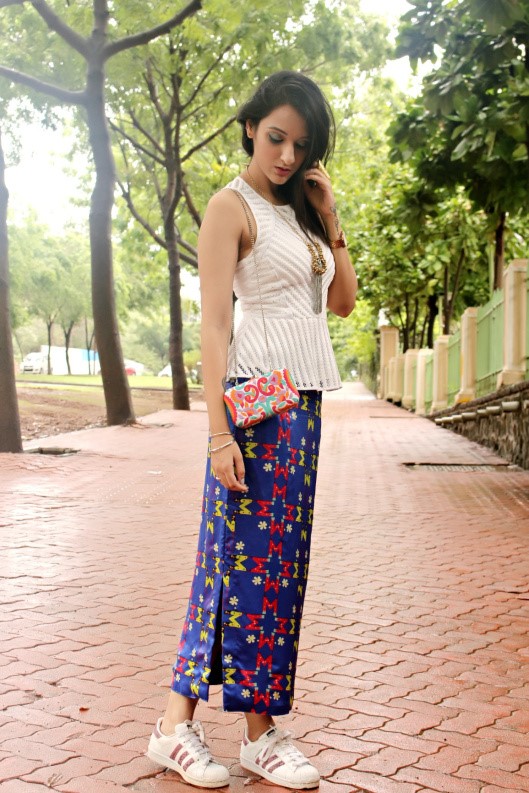 I came across her work on Instagram and I was mesmerized by what I saw. What I love about Tarini Nirula's clutch bags is the intricate detailing and craftsmanship on each of her products.
I knew I had to feature her designs on my blog. In this blog post, I've featured the beautiful Gardenia White box clutch which was pure love at first sight. I styled this beauty with a white peplum top and a marvelous Madras print bright blue maxi skirt with a side slit by the sister duo of the designer label BLUEPRINT. I got my hands on it from the e-commerce site IKKIVI.
I am out and out fan of their work and their collection keeps getting better! Since I created a day look, I paired the outfit with my favorite white sneakers from Adidas and a stunning metal neckpiece by Ritika Sachdeva.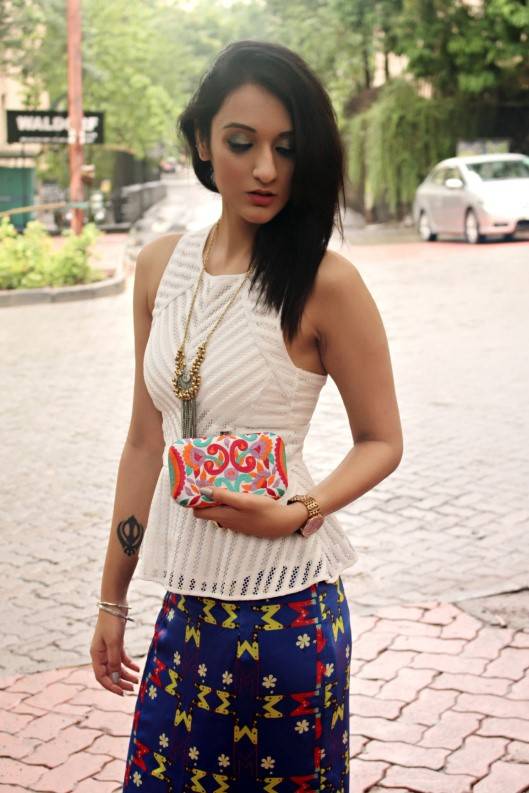 The handcrafted clutch has just the right amount of color and subtle pop of pattern to set off the outfit, and the size is just right to hold all the essentials. It's truly a versatile piece and is sure to make head turns at any time, any moment!
It's safe to say that owning one of these exquisite pieces from Tarini Nirula's collection will be a perfect addition to your wardrobe!