Clutch me Baby Tarini Nirula's Designs By Saanya Gulati
AUTHOR – SAANYA GULATI
Reposted with author's permission, originally posted here on www.saanyagulati.com 
About the Author: Saanya is a writer on contemporary culture, politics, travel, and lifestyle. She blogs at www.saanyagulati.com, and is currently completing her Master's at the LSE in London. Her work has previously been published in Times of India, DNA, Youth Ki Awaaz & more. She was one of our first buyers, and continues to be a loyal Tarini Nirula customer, carrying off these arm candies with flawless style!
Though clutches recently came back into fashion, few of us know that they have been around since the 1920s, then referred to as the pochette. With the growing number of boutiques and design labels, the variety available today is obviously unmatched in the history of clutches. The challenge is now to stand out from the crowd.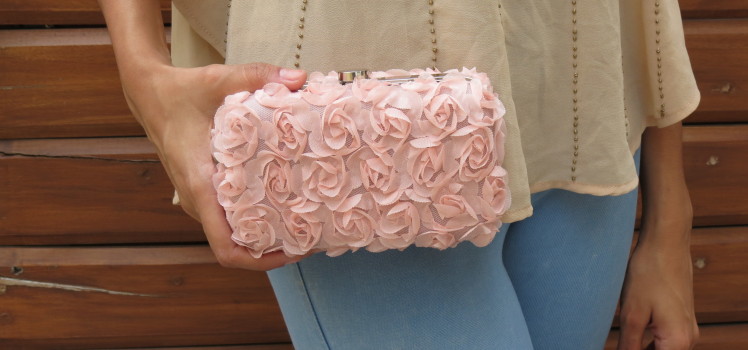 While I don't have brand loyalties when it comes to most accessories, clutches are an exception. That's why I've decided to dedicate this post to Tarini Nirula, whose clutches I specialize in collecting.
Minaudieres: Arm Candy Love
Let me introduce you to the minaudieres, which the French designer Charles Arpels invented in 1930. Tarini's collections are an ode to the minaudieres a metal plated mini-clutch that was designed as an evening accessory to fit the basics: make-up and your keys. Remember that the 1930s was the pre-phone era, not all these babies are cut out for your Nexus 5.
From the beaded to the bejeweled to the floral and the patterned, each minaudieres is exquisitely handcrafted by skilled Indian artisans (#MakeInIndia) and exudes elegance and exclusivity. Each bag has a story behind it. The Phoenix Red/Gold is one of my favorites.
Though it best stands out on plain black outfits, I have found that it works well with vibrant hues, such as peacock-blue and purple. Paired with plain colours it is bound to grab people's attention. And it sure does, because I've received several compliments on it.
Apart from the aesthetics, each bag is highly functional and can transform from clutch to sling purse in a second an option that not all clutches have. Though it may take a little time to get used to the clasps, innovation is the hallmark of any new enterprise, so you can rest assured that the customer experience will improve over time.
So, coming back to the sling purse look, though it is less formal, it saves me from several awkward moments juggling way too many things in my hands while at an event. If any of you have experienced the frustration of trying to balance your bag, a wine glass, a phone, and god forbid you're at a dinner party, where you're constantly shaking hands, you know what I'm referring to!
Another minaudieres that is part of the latest collection, is the Wild Rose Peach. Its light and summery look are perfect for the season. Paired with nudes and neutrals, it completes a cute Sunday brunch look.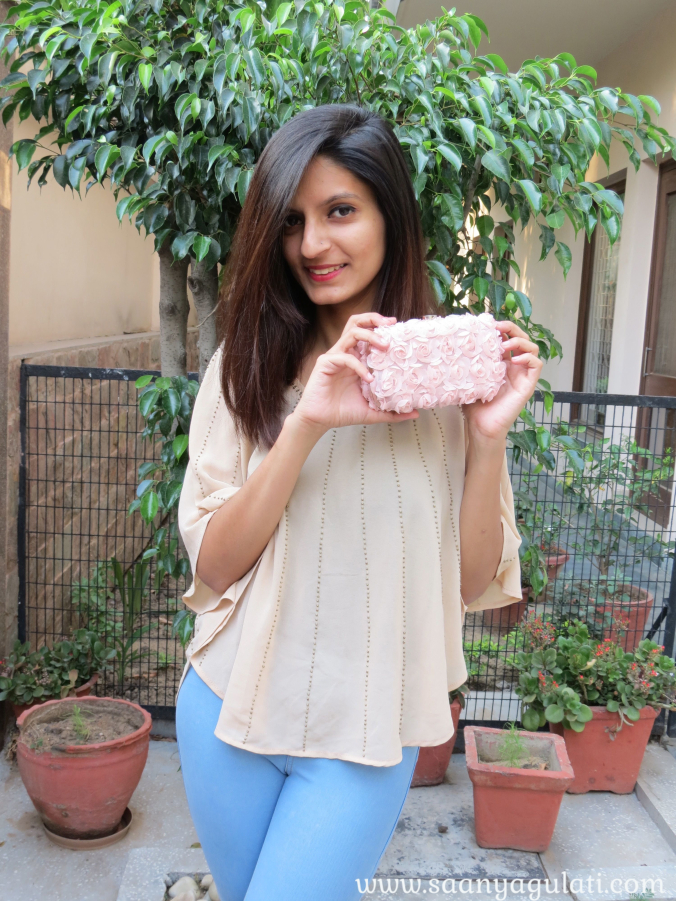 Satchels: The bigger the better
While minaudieres are the hallmark of Tarini's collections, I am personally a big fan of the satchels. If you're the kind of person who finds it difficult to just leave the house with a pair of keys and lipstick (like me), then you may find these more practical. For iPad owners, this bag was in fact designed keeping in mind these dimensions. Say hello to your uber-stylish new iPad sleeve!
Hypnotize, true to its name, is precisely the reason I bought it. It also seems to have captured the attention of many around me who have asked me where it's from.
Though I've styled it with a very casual outfit here, you can use this bag as part of an edgy night look as well, since the black adds a formal touch. Once again, the chain lets allow you to carry it effortlessly and works well for a day look.
What I like the most about Tarini's work is that her designs are subtle, yet statement pieces. Somehow, you manage to stand out, but without looking like you're trying too hard an art that isn't easy to master.
Lasting Impressions
As a testament to the lasting impression that these bags create, when I had my collection of Tarini Nirula bags laid out for this blog post, it was my man who noticed that one of them was missing. Where's the gold clutch? he asked me to which I was dumbfounded. But then it dawned on me you don't forget a Tarini Nirula bag when you see one.
So, for all of you fashion-forward women who carry your bags with confidence and style, and the men who remember them, here's presenting the chain clutch, which I recently carried for a friend's wedding.